Includes Contributions from the Creators of Gyo, Mushishi and Wallflower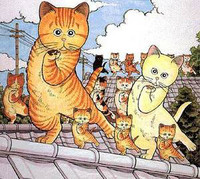 Kodansha has published a collection of manga and prose detailing the plight of cats who lost their owners in the 2011 Tōhoku earthquake and tsunami. Named for Makoto Kobayashi's manga about an orange American Shorthair tabby cat, What's Michael? Support for Cat Victims features Kobayashi's work along with 19 other manga authors. Proceeds from the ¥900 volume will be donated to support efforts.
Other contributors include Junji Ito, who, in addition to horror manga like Gyo and Uzumaki, has written amusingly disturbing manga about his own feline pets; Yuki Urushibara (Mushishi); Tomoko Hayakawa (Wallflower); and Hideyoshi Matsumoto (Honto ni Atta! Reibai-Sensei, Sabagebu!).
Via Comic Natalie