Capcom answers fans' wishes, albeit in a hilarious and trolling way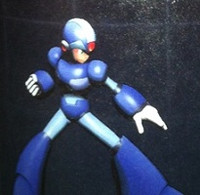 I have another confession to make: not only am I bad about limited editions, I'm even worse about alternate costume DLC. Counting upgrades and DLC, I've spent about $215 on Street Fighter IV.
Of course, there are alternate costumes available as DLC for the upcoming Ultimate Marvel vs. Capcom 3, and it looks like I'm just going to have to give Capcom beaucoup bucks for these too--not that I'm complaining at all.
Some enterprising individual has leaked the remaining DLC outfits for the game, and I'm surprised at some of the choices Capcom has made:
Zero gets Mega Man X as his DLC--now stop complaining!
Taskmaster in his stylish UDON-designed outfit
Wolverine's Weapon X gear
In response to "moar Darkstalkers plz," Amaterasu dresses up as Jon Talbain
This is digging deep--Felicia is Battle Circuit's Yellow Iris
I approve of Mike Haggar's ponytailed Final Fight 3 outfit
Hsien-ko's sister Mei Ling takes over when you choose her DLC costume
While this is awesome, I'm sad we don't get BC:Re-armed 2's awesome 'stache
Kinda blurry, but Joe powers down to Normal Mode in his DLC alternate
Trish as Devil May Cry 4's incredibly irritating Gloria
And there's the Iron Patriot, subbing a crazed megalomaniac in for Iron Man
Now you too can recreate most of World War Hulk
The Scarlet Spider is one of the more nostalgic (read: painful) memories of '90s comics
Single best DLC costume, right here
No, Nemesis, for real--put your shirt back on, you're scaring the ladies away, chicks don't dig scars
Firebrand powers up with the Red Arremer King armor
And now I can play UMvC3 the same way I play Dead Rising: with Frank West in Mega Man armor
Nova's classic outfit isn't quite as shiny as his current one
Ghost Rider, in his Ghost Rider 2099 digs
Rocket Raccoon's original outfit needed pants, badly
Changed my mind, this "Sick Phoenix Wright" is the best DLC costume
Dormammu goes old-school with his goofy boot-cuffs and purple spandex
Hawkeye as Ronin from New Avengers
Ultimate Iron Fist is probably bros with Nemesis, with their whole "we don't need no shirt" deal
Sir Arthur has run out of lives and is now Zombie Arthur, complete with skull boxers
Magneto in his classy House of M uniform
Phoenix gets redone as the codename-less Jean Grey from the '90s
She-Hulk's business suit works great for the courtroom or battlefield
Cablepool is everything right and wrong about '90s comics in one package--thanks, Deadpool
Vergil gets to dress up like Sparda too, it seems
These are the newest ones revealed, but some of the preorder bonuses (like Jill's Resident Evil 3: Nemesis outfit from the Gamestop preorder DLC) are pretty cool as well. We'll keep you posted as we get better images and more reveals! Are there any that you're planning on getting, or do you actually exercise self-control when costume DLC comes around?
via Shoryuken