Brett Ratner Was to Adapt Cult Cartoon in the Early 2000s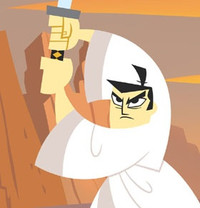 If the notion of seeing Genndy Tartakovsky's stylish Samurai Jack cartoon on the big screen excites you, you're not alone. Tarsem Singh, director of this week's big Greek myth epic Immortals, recently told The Hollywood Reporter that he'd love a chance to adapt the story of the time marooned swordsman
Singh told The Hollywood Reporter he has little interest in comic book movies, but "I love Samurai Jack. I would love to direct that." He said it's the epic style, pace and art that he admires.
"It's brilliant. The speed, it embraces where it comes from. I find that comic strip films are halfway grounded. They don't play my chord. But I love Samurai Jack. I love the animation," he said.
A live-action version of Jack was actually set up at New Line in the early 2000s, with Brett Ratner attached to direct and produce, but the rights have since reverted back to Cartoon Network.
"Have them contact me," Singh said.