Adaptation set to premiere in Japanese theaters on March 17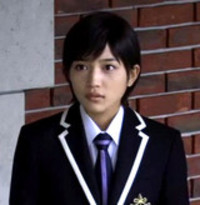 Cinema Today is now streaming a brief teaser of the live-action film adaptation of Bisco Hatori's Ouran High School Host Club, which features the addition of AKB48's Mariko Shinoda as a half-Japanese exchange student named Michelle.
On top of the previously announced cast members—including Haruna Kawaguchi in the lead role of Haruhi Fujioka—the film also adds Korean group 2PM's Nichkhun as the older brother of Shinoda's character.
Note: If you get a region lock warning on the embed like we did, click through to the YouTube page to watch the video.
The story of Ouran High School Host Club centers on Haruhi Fujioka, a high school freshman who pretends to be a boy in order to pay off a large debt to the school's wealthy Host Club. The live-action TV adaptation made its premiere in Japan in July.
The Sony Pictures Entertainment-distributed film opens in Japanese theaters on March 17, 2012.
Via ANN