Sound like hyperbole? Check out NealBomBad's Cecil and we'll talk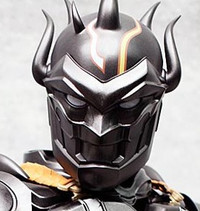 Eight months in the making, cosplayer NealBomBad's take on Cecil Harvey from Final Fantasy IV (released in the US on Super Nintendo as Final Fantasy II) is a sight to behold. Created using 3D modeling software and a 3D printer, well, just check out the results below.
This is what 500 hours of print time will get you. After the 3D printing was done, NealBomBad coated, sanded, primed, painted and clearcoated the parts. According to the cosplayer, the most difficult part of the process was "figuring out how to attach all the armor to themselves and to the body suit."
Wow. How 'bout that 3D printer! I want one now.
CREDITS: Photos in this and the linked gallery are by Joseph Chi Lin, Judy Stephens, Cliff Nordman and Daniel Baker.
NealBomBad's Cosplay.com and Acparadise.com pages.
Via Kotaku