Level-5/Studio Ghibli Game Inspires Curry Dish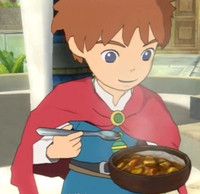 Developing games is an expensive business, so companies will do whatever they can to make a profit. Hopefully this tasty tie-in helps Level-5 and Studio Ghibli recoup their Ni no Kuni investments. With the PlayStation 3 version of the game, Wrath of the White Witch, hitting Japan tomorrow, House Foods has released a "legendary" Ni no Kuni branded beef curry!
Ni no Kuni: Wrath of the White Witch will be released in North America in early 2012.