Manga duo Yudetamago continue to flex their "Ultimate Muscle"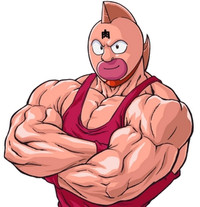 Kinnikuman—the madcap Weekly Jump wrestling comedy manga which was licensed in North America as Ultimate Muscle—has a new manga set to kick off in Japan on November 28.
While there are currently no specific details to report on the new storyline or featured cast, a recent tweet from Takashi Shimada—one half of the Yudetamago duo who deals out the "Kinniku Flash" with fellow mangaka Yoshinori Nakai—shows that they've been working hard on manuscripts and artwork for the new series.
We have any Kinnikuman / Ultimate Muscle fans here? Or perhaps, dare I ask, some folks from way back like myself who used to collect M.U.S.C.L.E. toys?
Via Nama Niku