On the other hand, some people may really, really disagree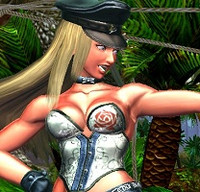 Unlike the gigantic Ultimate Marvel vs. Capcom 3 DLC costume leak from a few days ago, Capcom themselves have shown off a bunch of new screens of alternate costumes from the upcoming Street Fighter X Tekken. Generally speaking, Capcom's alternate costumes range from amazing hits (Blanka in a Saikyo-ryu gi) to unusual misses (Sagat and his spray-on pants are very happy to see you), but I have to say that I really like a lot of these. It's gonna make for some very, very interesting team-ups.
It's almost like Capcom feeds off the tears of fanboys or something--the more people complain, the stronger they become. Well, at least we're getting a Rainbow Mika outfit--just not on the character any of us expected.
They also provided some beautiful artwork from the game's intro:
I'm just wondering if some of those costumes we saw earlier will ever be available for Super Street Fighter IV. Chun's panda costume and Sagat's classy military uniform for me, please. I can't wait to see more--what about you?
via Capcom Unity