Love comedy about a female teacher and a cross dressing student due to her own fault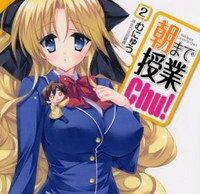 Photos of early copies have revealed that the band on the second volume of the Comic Alive serialized manga Asa Made Jyugyou chu!, on sale 11/22, announces that the series is getting an anime adaptation. Details will be announced in future issues of Comic Alive.
Asa Made Jyugou chu! is a love comedy about a male scholarship student named Yuuki Kagami, who due to a mistake by his teacher, a woman named Ayana Kakinozaka, ends up assigned to the female-only dormitory. Unable to get into the male dormitory, he ends up rooming with his teacher, wearing women's clothes within the dormitory. If he's found out, he will be kicked out of school. The title is a pun which can be translated as either "In Classes Until Morning" or "Class Until morning *smooch*"
via 0takomu
Image ©太田顕喜, むにゅう / Media Factory
Update: Title information, clarified story