Based on the new Wii game "The Legend of Zelda: Skyward Sword"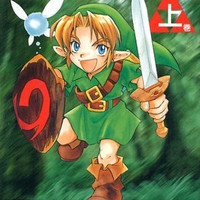 Akira Himekawa's official Twitter account and the January 2012 issue of Nintendo Dream magazine revealed yesterday that now Himekawa, a duo of female manga artists, are working on a new manga adaptation of the popular game franchise The Legend of Zelda. The manga is loosely based on the newest game The Legend of Zelda: Skyward Sword. This is the 11th Zelda manga adaptation by Himekawa.
The magazine published the 2-page interview with Himekawa on page 100 and 101. They announced the manga will be published by Shogakukan in near future and introduced two rough sketch pages from the up-coming manga.
The female manga duo have drawn 10 volumes of The Legend of Zelda manga so far. Their manga
series have been sold more than 1 million copies in Japan and at least more than 500,000 copies in
North America, according to Nielsen Bookscan.
[Akira Himekawa official site]
Source: Akira Himekawa's tweet, Nintendo Dream
image © Nintendo/Shogakukan/Akira Himekawa