Film directed by Studio Ghibli Co-Founder Gets Slated for New US Release Along With 2012 Release Slate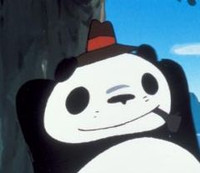 The 1972 Panda Go Panda feature film written by Hayao Miyazaki and directed by future Studio Ghibli partner Isao Takahata will be getting a standalone reissue by Discotek Media next year, following a previous release by the now defunct Geneon USA when it was still run under the Pioneer brand name as a dual-film release on one DVD in 2001 and 2004 under the Geneon Signature Series label before going out of print in 2007.
Synopsis:
Mimiko lives with her grandmother beside a bamboo grove. One day Mimiko's grandmother goes away for a while, leaving Mimiko to herself. A baby panda appears in the garden along with it's father, Papa Panda. Mimiko asks if Mr. Panda could be her father too, and he agrees.
Discotek has not confirmed whether it has also acquired the 1973 sequel film Panda! Go, Panda!: Rainy Day Circus, also directed by Takahata and written by Miyazaki.
The distributor has also announced its 2012 release slate which includes the following titles:
Lupin the 3rd Complete 1st Season
The Fantastic Adventures of Unico
Unico in the Island of Magic
Golgo 13 The Professional SE
---
Humberto Saabedra is the Editor-in-Chief of AnimeNews.biz, PhoneNews.com and an occasional columnist for Ani.me. He can also be found musing on his favorite 2D girls at @AnimeNewsdotbiz.