Plus Listings for 2012 Releases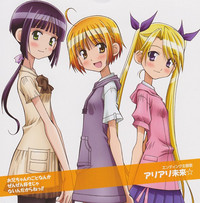 Seven Seas Entertainment announced that it has added two much-requested manga series to its 2012 line-up—Kusano Kouichi's harem comedy I Don't Like You At All, Big Brother!! and Morinaga Milk's yuri romance manga Girl Friends. Seven Seas will release both series in value-priced omnibus editions.
I Don't Like You At All, Big Brother!! (Oniichan no Koto Nanka Zenzen Suki Janain Dakara ne—!!) is a popular harem comedy manga series that spawned a successful anime TV series which aired in Japan in spring 2011:

Junior High School student Takanashi Nao has a problem: she has a crush on her dreamy older brother, Shuusuke. Fortunately, when Nao discovers that she was adopted as a child and they're not related by blood, it seems like the coast is clear—but Shuusuke just doesn't see it that way. To make matters worse, Nao finds herself in direct competition against Shuusuke's hot childhood friend, Iroha, not to mention class president Mayuka. As all three girls vie for Shuusuke's attention, Nao soon learns that all is fair in love and war! I Don't Like You At All, Big Brother!! will be released in 2-in-1 omnibus editions for the low price of $16.99 starting in August 2012.

Girl Friends, a tale of forbidden love for fans of Strawberry Panic, is an all-new girls romance manga series by yuri icon Morinaga Milk:

When it comes to grades, bookish high school student Mariko Kumakura is at the top of her class. Socially, however, she is shy and lonely, typically eating lunch by herself. Enter the charismatic and beautiful Akko Oohashi, whose mission is to befriend Mariko and burst her out of her introverted shell. In the process of transforming Plain Jane Mariko into one of the cutest, most popular girls in school, deep feelings begin to emerge that suggest something deeper than friendship. Will these feelings destroy the budding relationship between Mariko and Akko, or will it turn into something else? Seven Seas will release the entire five-volume series in two affordable, 496-page omnibus editions ($17.99 each) with the first edition, Girl Friends: The Complete Collection I, on sale October 2012, and Girl Friends: The Complete Collection II on sale January 2013.
Fandom Post notes that Right Stuf is listing the following Seven Seas releases for later in the year:
Alice in the Country of Clover: Bloody Twins Graphic Novel (192 pgs) – June 30th, 2012
Young Miss Holmes Graphic Novel Casebook 1-2 (384 pgs) – March 31st, 2012
Witch Hunter Graphic Novel 1-2 Omnibus (320 pgs) - June 30th, 2012
Dance in the Vampire Bund Graphic Novel 12 (208 pgs) – May 31st, 2012
Certain Scientific Railgun, A Graphic Novel 4 (192 pgs) – May 31st, 2012
Toradora! Graphic Novel 4 (192 pgs) – April 30th, 2012
Blood Alone Graphic Novel 6 (192 pgs) – April 30th, 2012
Amazing Agent Luna Graphic Novel Omnibus 3 (368 pgs) – March 31st, 2012