Pictures taken of new Eva Store security shutters hint at new characters for Eva 3.0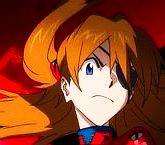 Japanese Eva fan blog Minna no Eva-fan has new images of the recently opened Eva Store in Harajuku, though these center on the security shutters that are used to secure the store when it closes for the day.
Guess who?
Can you guess the characters without looking for hints?
Second security shutter angle
The first guesses of the newly designed cast
Second image of character guesses.
Who are these characters?
As the third film is slated to open in 2012, the store also ties into promotion for the new film, though I don't think anyone expected to see promotion extend all the way to something as utilitarian as security shutters. Anyone out there have any thoughts on this?
via Koi-Nya