Are you telling me the main character is a horse?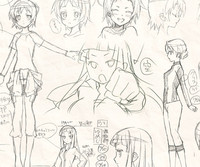 Hinted at by Sagu Aoyama on his twitter account, the January issue of Dengeki Hobby Magazine reveals that Production I.G. is working with the Japan Racing Association to produce a title involving horse racing called My Sweet Umadonna. The title itself is a pun on madonna and horse (uma). The scenario is being written by Sagu Aoyama, the author of Ro-kyu-bu! while the original character designs are by Kouji Ogata. Production I.G. is working on the animation and CG. The project will feature the voice talents of Aki Toyosaki, Rina Satou, and Aya Endou.
Here are the production sketches in the background of the official site:
The tagline roughly translates as "The irreplaceable days as a horse, spent with the girls. And then, you will become a horse. The title will be shown to the public on December 11th.
Update: Here is the visual from the magazine.
Image ©Japan Racing Association
Update2: Clarity that it wasn't announced over twitter, added visual.