Christian Bale sounds off on the end of the Christopher Nolan Batman films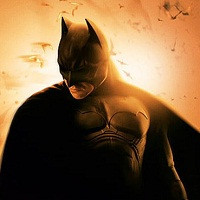 For me at least, Batman Begins redeemed the character of Batman in film. The Adam West series and movie was a joke, the Tim Burton movies a little less so, and I'm not even going to talk about the two Schumacher movies. Christopher Nolan's dark, psychological action movie got into the motivation of Batman and developed a harsh, realistic world around him, drawing from classic comics like Batman: Year One and The Long Halloween.
Christian Bale, who has played Bruce Wayne/Batman in Batman Begins, The Dark Knight, and the upcoming trilogy finale The Dark Knight Rises, had some surprising but inevitable news about the final Christopher Nolan-directed film.
"I wrapped a few days ago so that will be the last time I'm taking that cowl off... I believe that the whole production wrapped yesterday, so it's all done. Everything's finished. It's me and Chris--that will be the end of that Batman era."
Bale regards Anne Hathaway as a perfect fit for the role of Catwoman, and mentioned their screen test as proof of this. Also regarding the many different views of Batman and his supporting cast, he said:
"When [director] Chris [Nolan] watched the screen test, he agreed that Anne did a wonderful job. In many ways, she has the hardest job. There are a number of people who feel that the Catwoman role has been defined previously. So, I always saw Anne's role as being the toughest job of any of us. In my case, I've stopped referencing outside sources. I now reference Chris' own world of Batman as a guide to what I will continue doing."
Regarding actor Tom Hardy, playing the cerebral strongman Bane, Christian Bale had plenty of praise, saying that he's "a phenomenal actor... I know that Bane has been seen in movies before. But, in my eyes, Tom is essentially creating Bane for the first time so there's great freedom for him to be able to do so."
While I'm kind of sad to hear this news, it's good to know that Nolan's three movies are by and far the gold standard for DC comics cinema, and perhaps superhero movies and comic adaptations as a whole. There go my hopes for a Justice League movie, though. What do you think? Does the end of the Nolan-verse fill you with dread for future comic adaptations, or were they just not your thing?
via IGN