It's the first time this retro manga will be done in live action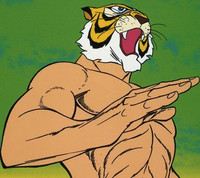 Eiji Wentz will play the title role in a live action film version of Ikki Kajiwara's Tiger Mask, set to begin filming December 1st and due out next year. The protagonist, an orphan named Naoto Date, is trained to be a pro-wrestler by Mister X and his shady organization Tiger's Cave, but betrays them in order to help other orphans. As the hero, Tiger Mask, he of course wears a tiger mask.
However, this adaptation is going a more "American comic-styled action hero" route, and reworks the character to include a suit that bestows super-powered mobility and strength. The film will concentrate about a third of the time on Naoto Date's time spent under the wing of Tiger's Cave to fully explore the hero's origin for kids who aren't familiar with the manga.
Tiger Mask, written by Ikki Kajiwara, with illustrations by Naoki Tsuji, was serialized between 1968 and 1971. A 105 episode TV anime run from 1969-71 spawned a feature film in 1970 and a shorter sequel series in the early 80s.
If you don't count actual pro wrestlers who have made licensed use of the Tiger Mask persona (see the first, Satoru Sayama, pictured above), or people donating anonymously to orphanages as "Naoto Date," this is the first live-action version of the iconic character.
Wentz starred as Kitarō in the live action Gegege no Kitarō live-action films that came out in '07-8. He is also the W half of the pop duo WaT. Such a cute guy—do you think he'll make a good pro wrestler?