Get a taste of the show's ending theme by ClariS & Ryo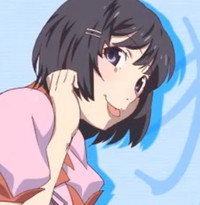 Nisemonogatari, the followup to Bakemonogatari, is set to premiere on Japanese TV in January 2012. In advance of that a new TV commercial offers a look at the ending theme, "Naisho no Hanashi," by the female duo ClariS and composer Ryo of supercell.
The following video is also being streamed at the official Nisemonogatari site. Akiyuki Shinbo (Bakemonogatari, Puella Magi Madoka Magica) is directing the sequel, which features character designs by Bakemonogatari and The World God Only Knows' Akio Watanabe.
Nisemonogatari focuses on the "Fire Sisters" Tsukihi and Karen Araragi.
As previously reported, there will also be a prequel NisiOisin anime project, Kizumonogatari, set to hit Japanese theaters next year.
Via ANN
© NisiOisin/Kodansha, Aniplex, Shaft