Also Madoka Magica and Evangelion Origami at the exhibition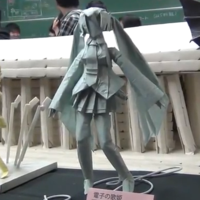 Origami is the traditional Japanese art of paper folding. Orist, an Origami making circle at Tokyo University, exhibited many Origami dolls featuring anime/manga/game characters at their school festival Komabasai on November 25-27.
The most popular one was a doll named "Denshi no Utahime (Electric Diva)", obviously modeled on the Vocaloid character Hatsune Miku. The creator was the fourth year student at the university, Naoki Takeda. He spent 20 hours to fold the Origami Miku. The technique for the doll is called "Fusetsu Seihou-kei Ichimai-ori (不切正方形一枚折)", which means he folded just one 78cm x 78cm square sheet of Origami without notches. He also created two more Origami dolls featuring a character and a mecha from Puella Magi Madoka Magica and Evangelion. Check out the videos to see his incredible skill.
"Denshi no Utahime (Electric Diva)"
"Michibiki no Mahou Shoujo (Magical Giri of guidance)"
"Hitogata Kessen Heiki (Ultimate Humanoid Weapon)"
Source: Hatsune Mikumiku