New Take on Popular Kenshin Story Hits Japanese Theaters December 17th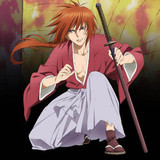 The first half of the new OVA Rurouni Kenshin: Shin Kyoto-Hen is set to debut in Japanese theaters on December 17, ahead of its home video release. Kazuhiro Furuhashi (the prior Kenshin anime, Chevalier D'Eon) directs the new adaptation of the samurai series' most popular storyline, based on a script from Mari Okada (Fractale, Horo Musuko, Hanasaku Iroha ).
Mayo Suzukaze returns to voice Kenshin; Masanori Ikeda is back as Makoto Shishio, Miina Tominaga as Yahiko Myoujin, Miki Fujitani as Kaoru Kamiya, Tomo Sakurai as Misao Makimachi, Yoshito Yasuhara as Aoshi Shinomori, and Yuji Ueda as Sanosuke Sagara.
Ken Narita (InuYasha's Sesshoumaru) replaces deceased Hirotaka Suzuoki as former Shinsen Gumi swordsman Hajime Saito.