Series based on Honobu Yonezawa-penned mystery novel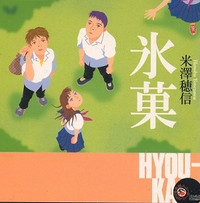 Head over to Kyoto Animation studio's official site and you'll see a special message pop up, announcing a TV anime adaptation of Honobu Yonezawa's youth mystery/horror novel Hyouka: You can't escape.
The 2001 novel, pictured below, is the first in the koten-bu series, and won an honorable mention in the Kadokawa campus novel contest, mystery horror genre. It centers on Houtarou Oreki, a high schooler who is resistant to getting involved with anything.
This changes when he joins the koten-bu club, and is tasked with solving everyday mysteries. What's up with the classroom you can't enter? What about the mysterious book that's always checked out of the library? These puzzles and more—including an incident from 33 years ago involving a female club member's uncle—await in Yonezawa's tale.