Last release in 2005 before dissolution of ADV Films in 2009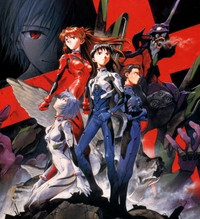 The TV series that put former distributor A.D. Vision on the map in Neon Genesis Evangelion will be going out of print soon in the US according to a notice from online retailer RightStuf posted earlier today.
While the notice of the series going out of print does not specify a date, the fact that the series license is not being renewed in the wake of the massive popularity of the Evangelion Rebuild movies in the US is surprising, yet expected in a way.
The series was first made available on VHS in 1997 and was released in multiple configurations before being one of the first anime DVD releases in the year 2000 with the release of the single volumes and the subsequent release of the Perfect Collection boxset in 2002, which was considered one of the most expensive DVD boxsets made available at the time of its release.
Copies of the Perfect Collection still hold their value today compared to cheaper boxsets released in 2004 and 2005, with the last major boxset release in that same year which added the remastered video from the 2003 Japanese Renewal of Evangelion DVD release at the expense of the extras found in the original Perfect Collection, even excluding the Spanish dub track, which personally made me sad and made me decide to keep the original set.
With the dissolution of ADV Films into multiple companies in 2009, much was made of the fact that it still held the license to the TV series under the AEsir Media Holdings dba while the "new ADV" divisions of Section 23 and Sentai Filmworks picked up new or equally successful licenses, leading many to speculate that the series had run its course in terms of marketability in the wake of the release of the Rebuild film anthology and its decreasing relevance as a gateway anime series for new fans.
As Funimation now holds the licenses to the new Eva films, it would make sense for them to pick up the license to the TV series as a cheap rescue, but given that the series is still readily available for as low as $30, a Blu-Ray release of the original series would be the best way, if not the only way to spur interest in the old series since it holds a lot of nostalgic memories for many older anime fans, myself included.
---
Humberto Saabedra is the Editor-in-Chief of AnimeNews.biz, PhoneNews.com and an occasional columnist for Ani.me. He can also be found musing on his favorite 2D girls at @AnimeNewsdotbiz.