Dirty Pair's Yoshikazu Yasuhiko on Che, Whistle's Daisuke Higuchi on Eiji Tsuburaya, Macross' Haruhiko Mikomoto on Queen Elizabeth, and more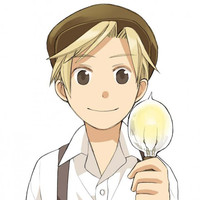 Asahi Shimbun has announced its 2012 schedule for weekly, full-color biographies for children. World Great Figures in History kicks off on January 17 with Thomas Edison by josei manga writer Fuka Mizutani. That first issue is discounted to ¥180, while later ones will sell for ¥490.

No. 1: Edison

No. 2: Mother Teresa (Kazuya Kazeya)

No. 3: Leonardo da Vinci (Kamui Fujiwara)

No. 4: Ryoma Sakamoto (Shinpei Ito - Moldiver, Hyperdoll)

No. 5: Mozart (Konatsu Uraji)

No. 6: Cleopatra (Kuronekosari)

No. 7: Albert Einstein (OOI Masakazu)

No. 8: Michael Jackson (Astral Project illustrator Syuji Takeya)

No. 9: Nobunaga Oda (Keitarou Nihobashi)

No. 10: Columbus (Takashi Taniguchi)

No. 11: Gaudi (Tecchuu Imatani)

No. 12: Ayrton Senna (Noboru Rokuda)

No. 13: Kenji Miyazawa (Hiroshi Yamazaki)

No. 14: Jesus (Deka Kyoshi's Tamio Baba)

No. 15: Zhuge Komei (Hajime Sawada - illustrator on the Sorcerer Stabber Orphen and Guin Saga manga)

No. 16: Galileo (Keiko Fukuyama)

No. 17: Marco Polo (Sato Inoue)

No. 18: Osamu Tezuka (Kanko Amanatsu)

No. 19: Napoleon

No. 20: Picasso (Wataru Ofuji )

No. 21: Chaplin (Kuronekosari)

No. 22: Konosuke Matsushita

No. 23: Anna Pavlova

No. 24: Steve Jobs ( Tatsuyoshi Kobayashii)

No. 25: Beethoven

No. 26: Edogawa Rampo (Kenji Mizuhara)

No. 27: Helen Keller (Puzzle Itsuka)

No. 28: Buddha

No. 29: Darwin

No. 30: Shakespeare (Ten Niboshi )

No. 31: Joan of Arc (Sota Kuwahara)

No. 32: Soichiro Honda

No. 33: Genghis Khan (Sataour Yuiga of E's)

No. 34: Lincoln

No. 35: Agatha Christie (Daisuke Kimura)

No. 36: Naomi Uemura

No. 37: Madame Curie (TOBI)

No. 38: Martin Luther King Jr.

No. 39: Florence Nightingale (Akira Kuwahara)

No. 40: The Wright Brothers (Saya Iwasaki )

No. 41: Queen Elizabeth I (Macross' Haruhiko Mikomoto )

No. 42: Eiji Tsuburaya (Whistle's Daisuke Higuchi)

No. 43: Favre
No. 44: The Brothers Grimm (Utako Yukihiro )
No. 45: Alexander the Great ( Ichiken Iseda )

No. 46: Momofuku Ando

No. 47: Gandhi

No. 48: Yuri Gagarin Fusanosuke Inariya)

No. 49: Anne Frank (TNSK)

No. 50: Che Guevara (Yoshikazu Yasuhiko of Dirty Pair and Gundam fame)
via Comic Natalie