How Japanese girls experience "otabare"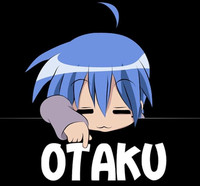 Starting from a premise of, "There aren't that many otaku girls who can grandly announce to the guy they like, 'I'm an otaku!' right?" Girl Sugoren describes nine ways a girl might accidentally out herself without thinking.
1. Immediately replying "17" when a guy says, "I wonder how old Luffy is...."
2. Calling a cameraman a "kameko" [since that is cosplayer slang]
3. Using net slang in everyday life
4. Referring to an energy drink as a "potion" or some other game recovery item
5. Being unable to sing anything but anime songs at karaoke
6. Mysteriously going on vacation is revealed as being a trip in order to follow around your favorite band
7. Being caught looking at your favorite idol on your cell phone
8. Being so good at using a sewing machine in home economics that it's clear you are a cosplayer
9. Getting overly excited in conversation about a drama your favorite idol is in
Any of these ever happened to you? Are you guys worried about your otaku habits being discovered, anyways? Tell us your tales of pride or shame in the comments!
via Yaraon!