Including anime titles: Bakuman, Negima, TORIKO, Studio Ghibli and more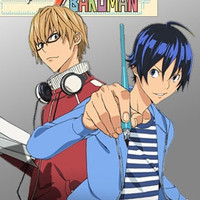 Probably these were the busiest three days for the Copyright infringement section of the entire Japanese police. On November 28-30, the police in the all 47 prefectures of Japan searched 76 places and arrested 30 people on suspicion of using file-sharing software (26 of them were Share users) or online storage sites to upload films, music, anime, game, and business software illegally. This was the largest simultaneous enforcement by the Japanese police against illegal uploaders ever.
According to the ACCS news release, 13 of the 30 suspects were arrested for uploading anime titles specifically. The uploaded titles the other media have reported were:
"Bakuman."
"Bakuman. 2"
"Working'!!"
"Negima! Magister Negi Magi"
"Hyouge Mono"
"TORIKO"
"Arrietty"
"Unspecified Studio Ghibli movie"
"Hanasaku Iroha"
"Blue Exorcist"
"Hajime no Ippo"
---
Related:
Teacher Suspended from Office for 2 Months for Uploading K-ON, Haruhi, Oreimo
Man Sentenced to 12 Months in Prison for Posting Gundam UC on Nico Nico Douga
Six Men Arrested for Uploading ONE PIECE Manga
"Oreimo", "Haruhi", "Suite PreCure" Uploaders Arrested
Famous Illegal Anime Uploader Finally Arrested
Primary Teacher Arrested for Uploading K-ON!! Episode
Man Arrested for Selling Pirated ONE PIECE DVD at Auction Site
Man Arrested for Uploading "Toaru Majutsu no Index II"
Man Arrested for Posting Gundam UC 3 on Nico Nico Douga
JSDF Officer Arrested for Uploading "Pani Poni" Manga
Pirated ONE PIECE DVD Seller Charged
Police Raid Illegal Anime Uploader's House
Bakuman Anime Uploader Arrested
Man Arrested for Uploading Movies on Nico Nico Douga
Ichigo Mashimaro Manga Uploader Arrested
Man Arrested for Uploading Arashi Videos on YouTube
ONE PIECE Film Uploader Arrested
Another Illegal Anime Uploader Referred
Source: ACCS, Mainichi, Kahoku Online Network, Sankei, NTV News 24, Yomiuri, Sponichi
Bakuman. image © Tsugumi Ohba,Takeshi Obata /Shueisha/NHK/NEP/ShoPro