Awesome License, Dood! Premium Edition to Come in March 2012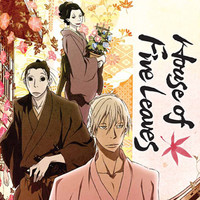 NIS America has announce plans to release the anime adaptation of Natsume Ono's unique samurai manga House of Five Leaves in a Complete Series Premium Edition in March, 2012. The Manglobe (Samurai Champloo) production ran on Fuji TV's Noitamina alternative anime block and was simulcast by FUNimation.
House of Five Leaves follows the story of a ronin, Masanosuke, working as a bodyguard in Edo. Because of his shy personality, he kept being let go from his bodyguard jobs despite his magnificent sword skills. While he was wandering around town he met a man, the playboy who calls himself Yaichi. He hires Masanosuke as his bodyguard. Masanosuke soon finds out that Yaichi is the leader of a group of kidnappers who call themselves the "Five Leaves." The story unfolds as Masanosuke deals with his dilemma and the suspense surrounding the Five Leaves.


House of Five Leaves Premium Package includes 2 DVDs and a hardcover artbook.