Cast of manga-based film advises filmgoers on movie etiquette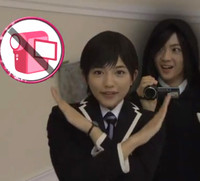 "Hey, you! Down in front! Shut that cellphone off, I'm tryin' to watch Ouran High School Host Club!," She bellowed, butter oozing down her chin. Japanese theaters avoid such confrontations by showing "manner" commercials prior to films, and it's the cast of the live-action adaptation's turn to advise us on our movie etiquette.
The story of Ouran High School Host Club centers on Haruhi Fujioka, a high school freshman who pretends to be a boy in order to pay off a large debt to the school's wealthy Host Club. The film depicts an aspect of the story not seen in the live-action TV series. 16-year-old Haruna Kawaguchi plays the lead, reprising her role from the drama.
Other cast members include Yusuke Yamamoto and Shunsuke Daito—who play club president Tamaki Suou and vice-president Kyoya Ootori—as well as AKB48's Mariko Shinoda and 2PM's Nichkhun.
The Sony Pictures Entertainment-distributed film opens in Japanese theaters on March 17, 2012.
Via ANN