Sort-of sidekick Don Patch leads the charge in "Fuwari! Don Patch"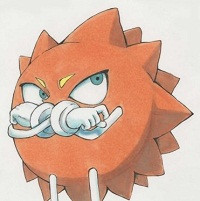 I'm in the very rare minority when I say that Bobobo-bo Bo-bobo is an underappreciated gem. Any series where the cliche shounen phrase "We will defeat you with our excellent teamwork" means that the hero is using his friends as shields is solid gold to me.
As is the case with most comedy-centric anime and manga in the US, Bo-bobo and its sequel series Shinsetsu Bobobo-bo Bo-bobo never really caught on in the west, but it's popular enough in Japan to have earned a spin-off series titled Fuwari! Don Patch in monthly Saikyou Jump, which also runs the Naruto spin-off Rock Lee no Seishun Full-Power Ninden. If anything, this means the new series might be a little lighter on the hilariously graphic slapstick comedy, as Saikyou Jump aims for a younger audience.
The spin-off series premieres in the January issue of Saikyou Jump, and includes the reveal of the magazine's mascot designed by One Piece creator Eiichiro Oda. Anyone else looking forward to this?
via Comic Natalie