Two years in prison or two million yen fine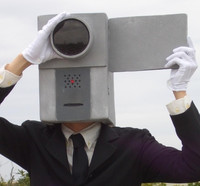 The current leading opposition party in the National Diet of Japan, LDP (the Liberal Democratic Party), and the second party Komeito have jointly drawn up a bill that aim to punish people who illegally download music and films by their internet access on December 7. The bill states that the illegal downloaders are subject to a maximum imprisonment of two years or a fine of two million yen (approximately US$25,756). Asking for cooperation with Democratic Party of Japan, the current ruling party, they are planning to submit the bill to the Diet next year.
As we have reported, illegal uploading are subject to criminal punishment by the copyright law in Japan. Though it is also stated as illegal act, there have been no criminal penalty for downloading contents by the internet access. Should the Diet of Japan pass the bill? What's your opinion?
---
Related:
30 People Arrested for Illegal Uploading in 3 Days
Teacher Suspended from Office for 2 Months for Uploading K-ON, Haruhi, Oreimo
Man Sentenced to 12 Months in Prison for Posting Gundam UC on Nico Nico Douga
Six Men Arrested for Uploading ONE PIECE Manga
"Oreimo", "Haruhi", "Suite PreCure" Uploaders Arrested
Famous Illegal Anime Uploader Finally Arrested
Primary Teacher Arrested for Uploading K-ON!! Episode
Man Arrested for Selling Pirated ONE PIECE DVD at Auction Site
Man Arrested for Uploading "Toaru Majutsu no Index II"
Man Arrested for Posting Gundam UC 3 on Nico Nico Douga
JSDF Officer Arrested for Uploading "Pani Poni" Manga
Pirated ONE PIECE DVD Seller Charged
Police Raid Illegal Anime Uploader's House
Bakuman Anime Uploader Arrested
Man Arrested for Uploading Movies on Nico Nico Douga
Ichigo Mashimaro Manga Uploader Arrested
Man Arrested for Uploading Arashi Videos on YouTube
ONE PIECE Film Uploader Arrested
Another Illegal Anime Uploader Referred
image from "No More Eiga Dorobou" Video