Piranha 3D director plans to blast his Psycho Gun after filming "Horns"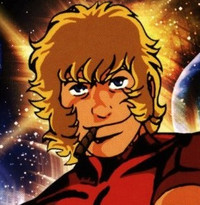 It's been a while since we had an update on the Space Adventure Cobra film directed by Alexandre Aja (Piranha 3D, The Hills Have Eyes, High Tension), but word of the shoot popped up again today via The Hollywood Reporter.
Aja is teaming up with horror writer Joe Hill to adapt Hill's novel Horns, about a 26-year-old man who wakes up with a massive hangover and horns sprouting from his head. However, it's what comes after Horns that should be of interest to fans of mangaka Buichi Terasawa, Psycho Guns and space butts.
Mandate's goal is to have Aja direct Horns in late spring or early summer 2012 before moving on to the manga adaptation Cobra, which was most successfully realized in the following promotional image used to drum up interest at Cannes Film Festival earlier this year.