Japanese fans can get up to speed with large volumes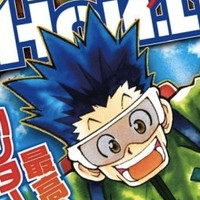 While the rebooted TV anime allows new fans to discover Hunter x Hunter, Shueisha is making it easier for them to get caught up with Yoshihiro Togashi's original manga. They're releasing six mega manga mag-style volumes of Hunter x Hunter Compilation Treasure one per month, which will cover through the Greed Island arc.
Volume 1 came out December 9th and covers the Hunter Exam arc (the first five tankobon). Volume 2 goes on sale January 13th and covers the Sky Arena arc. The Phantom Brigade arc is broken into two volumes, as is the Greed Island arc, and these volumes will debut on the subsequent 2nd Fridays of each month.
After that it sounds like you'll be back to collecting tankobon volumes 19-29 one by one to read about the Chimera Ants.
Color pages from the Weekly Shonen Jump serialization are included, and as a bonus, each volume comes with a Jump Comics cover you can use to spruce up one of your tankobon versions.
Volume 1 is 788 pages for 760 yen—pretty rad deal especially considering the tankobon go for 410ish apiece on Amazon.
via Natalie