Yoshihiro Tatsumi and Shigeru Mizuki Gekiga Scheduled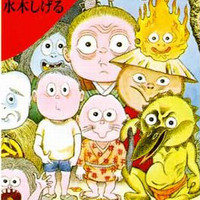 In 1957, Yoshihiro Tatsumi coined the term gekiga ("dramatic pictures") to distinguish a movement of work that would view the world in a harsher gaze than the mainstream of commercial, youth oriented manga ("irresponsible picture"). Bits of this branch of adult work have been sampled and well received in North American. Drawn & Quarterly's release of Tatsumi's memoir A Drifting Life was honored with an Eisner Award.
Now, according to Amazon listings, D&Q has new releases of gekiga from Tatsumi and legendary yokai story author Shigeru Mizuki (GeGeGe no Kitaro) scheduled for next spring.
The license of the latter was first announced in 2010, along with Onward Towards Our Noble Deaths, a manga released in April 2011 concerning Mizuki's World War II infantry experience.
by Yoshihiro Tatsumi
May 22, 2012
$19.95

In Fallen Words, Yoshihiro Tatsumi takes up the oral tradition of rakugo and breathes new life into it by shifting the format from spoken word to manga. Each of the eight stories in the collection is lifted from the Edo-era Japanese storytelling form. As Tatsumi notes in the afterword, the world of rakugo, filled with mystery, emotion, revenge, hope, and, of course, love, overlaps perfectly with the world of Gekiga that he has spent the better part of his life developing.


These slice-of-life stories resonate with modern readers thanks to their comedic elements and familiarity with human idiosyncrasies. In one, a father finds his son too bookish and arranges for two workers to take the young man to a brothel on the pretext of visiting a new shrine. In another particularly beloved rakugo tale, a married man falls in love with a prostitute. When his wife finds out, she is enraged and sets a curse on the other woman. The prostitute responds by cursing the wife, and the two escalate in a spiral of voodoo doll cursing. Soon both are dead, but even death can't extinguish their jealousy.


Tatsumi's love of wordplay shines through in the telling of these whimsical stories, and yet he still offers timeless insight into human nature.
$26.95
March 27, 2012
NonNonBa is the definitive work by acclaimed Gekiga-ka Shigeru Mizuki, a poetic memoir detailing his interest in yokai (spirit monsters). Mizuki's childhood experiences with yokai influenced the course of his life and oeuvre; he is now known as the forefather of yokai manga. His spring 2011 book, Onward Towards Our Noble Deaths, was featured on PRI's The World, where Marco Werman scored a coveted interview with one of the most famous visual artists working in Japan today.


Within the pages of NonNonBa, Mizuki explores the legacy left him by his childhood explorations of the spirit world, explorations encouraged by his grandmother, a grumpy old woman named NonNonBa. NonNonBa is a touching work about childhood and growing up, as well as a fascinating portrayal of Japan in a moment of transition. NonNonBa was the first manga to win the Angoulême Prize for Best Album. Much like its namesake, NonNonBa is at once funny and nostalgic, firmly grounded.
via @animeresearch