30 Year Old Trio Celebrates the Season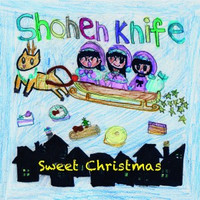 In honor of Osaka pop-punk trio Shonen Knife's new digital single "Sweet Christmas," distributor P-VINE has posted a video of the girls' holiday preparations. Naoko Yamano, Atsuko Yamano and Michie Nakatani have more to celebrate considering December marks the 30th anniversary of their group's 1981 formation.
The single also features an acoustic version of "Sweet Christmas" and a cover of "We Wish You A Merry Christmas." Unfortunately, the Ramones fans and sometimes cover band didn't go for a cover of Adam Sandler's "Hanukkah Song."