Released for the PSP in December of 2010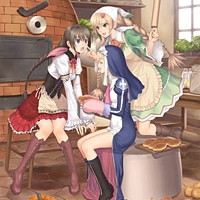 During Bushiroad's 2011 Strategy Presentation, it was announced that Shining Hearts would indeed be getting an TV anime adaptation. The series will air in the Spring of 2012 and will be animated by Production I.G. As in the game, Rick will be voiced by Hiroshi Kamiya and Amil will be voiced by Kanae Itou. However, Neris will be voiced by Mai Aizawa and Airy will be voiced by Shiori Mikami.
It had been previously rumored based on a 2ch leak that there would be a new Shining series anime by Production I.G, but it claimed to include both Shining Hearts and the upcoming Shining Blade. Shining Hearts was originally released for the PSP in December of 2010 and is getting a priced down re-release this month in Japan.
Source: Shining Hearts Official Site via 0takomu
Image ©Sega
Update: Removed a sentence about character designer Tony being on stage. Had misread a Nico comment.
Update 2: Additional details based on Shining Hearts Website.