The album scheduled to be released in Spring 2012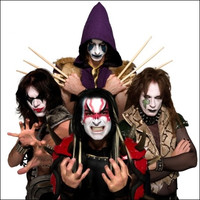 The official site for Animetal USA, a heavy metal unit that specializes in metal covers of anime and tokusatsu themes, has announced today that they start accepting cover song requests for the second album which is scheduled to be released in Spring 2012. Several lucky people selected in a lottery will receive the autographed Animetal USA posters and the names of the people whose requested songs are picked up for the album will be on the booklet of the album.
The closing day for application is December 21. You can send your request via the official site, Twitter, and Facebook. Which anime song do you want them to play? They have already performed these songs in the first album.
1. "Space Battleship Yamato" from Space Battleship Yamato
2. "Gatchaman no Uta" from Science Ninja Team Gatchaman
3. "Mazinger Medley" from the Mazinger series
4. "Makafushigi Adventure" from Dragon Ball
5. "Zankokuna Tenshi no Thesis" from Neon Genesis Evangelion
6. "Ai o Torimodose!" from Fist of the North Star
7. "Ganbare Dokaben" from Dokaben
8. "Pegasus Fantasy" from Saint Seiya
9. "Ike! Tiger Mask" from Tiger Mask
10. "Kinnikuman Go Fight!" from Kinnikuman
11."Yuke Yuke Hyuuma" from Kyojin no Hoshi
"Sapce Battleship Yamato"

The members of ANIMETAL USA are:
Mike Vescera (OBSESSION, LOUDNESS) - Vocals
Rudy Sarzo (BLUE ÖYSTER CULT, OZZY OSBOURNE, QUIET RIOT, WHITESNAKE, DIO) – Bass
Scott Travis (JUDAS PRIEST, RACER X) - Drums
Chris Impellitteri (IMPELLITTERI) - Guitar
Source: Tower Records Online

© Sony Music Japan International Inc.