Full Cast on Display in 41 Second Preview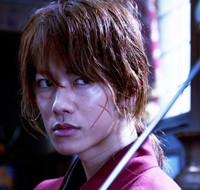 It's probably best to temper any optimism about a live action adaptation of a Shonen Jump manga with plenty of caution, but the teaser for Rurouni Kenshi looks pretty nice! Check out a first look of the movie, due to hit Japanese theaters in August 2012.
Takeru Sato stars as the titular political assassin turned non-lethal protector.
Satou Takeru as Himura Kenshin
Takei Emi as Kamiya Kaoru
Aoki Munetaka as Sagara Sanosuke
Taketo Tanaka (debut role) as Myoujin Yahiko
Aoi Yuu as Takani Megumi
Eguchi Yosuke as Saitou Hajime
Kikkawa Kouji (Kamen Rider W) as Udou Jine
Kagawa Teruyuki (Toshiie to Matsu) asTakeda Kanryuu.
via La Ventana de Saouri 2.0 and Jefusion