Available for Sale Next Year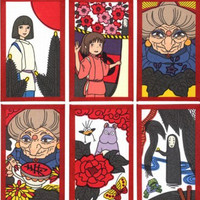 Hanafuda ("flower cards"), are sets of 48 playing card that have their origins in arrival of 18th century Portuguese missionaries, and which helped popularize card games among the Edo Era's non-elite classes. In terms of international pop culture relevance, Nintendo as founded as a hanafuda card marker, and beyond that, they're something that watchers of 2009's Summer Wars should recognize.
A new set of the cards will feature the characters from Hayao Miyazaki's Academy Award winning Spirited Away. Long time Studio Ghibli producer Toshio Suzuki gave his endorsement. "They're great! I want some. "
A Set of the cards will be available on December 31 for 3150 yen, while a limited frame sheet goes on sale in Febryary for 6800 yen.
via Walker Plus and @japan_style