Dress Displayed at Tokyo Bridal Festa This Weekend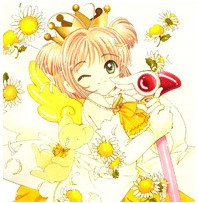 A wedding dress designed by CLAMP, inspired by the manga creation team's magical girl series CardCaptor Sakura, will be on display at the Tokyo Bridal Festa 2011 (Tokyo Big Sight Event Center on December 23 and 24).
There are also original drawings of Sakura and Chii wearing the outfit.
Speaking of CLAMP design, Japanese short track athlete Yui Sakai has posted pictures over at her official blog of a helmet with stickers designed by CLAMP (Tsubaki Nekoi).
via Chibi Yuuto and 0takomu