Photos show a model sporting the design at Tokyo Bridal Festa 2011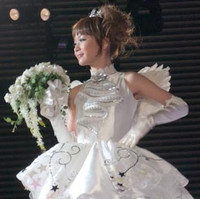 "I'm a model, you know what I mean, and I do my little turn on the catwalk," said Right Said Fred of manga group CLAMP's Cardcaptor Sakura wedding dress, as it hit the runway as part of Tokyo Bridal Festa's fashion show. See how it looks on an actual person below!
In case you missed it, pics of the wedding dress by itself.
Via ANN