Time for the Cotton Candy Lover to blow out his candles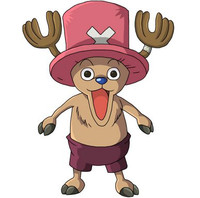 The doctor is in! Only this doctor is a blue-nosed reindeer who could potentially beat the tar out of ya, but is more likely to blush at the slightest of compliments. Chopper's gonna be doing a lot of that today, because it's his birthday, so pop a rumble ball and go wild with us in celebration!
Aw man, so cute… wait, no Chopper, NOOOO!!
Perhaps this birthday cake, as seen on DeviantArt, will tame this wild beast…
Ah, that's better.
Before we close, one final tasty treat for one of Eiichiro Oda's most endearing One Piece creations.