Asahi to test drink vender access points in Japan early next year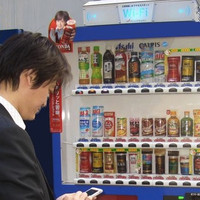 Pretty soon in certain parts of Japan you'll be able to get a free data boost from Wi-Fi equipped Asahi vending machines. The drink company announced today that the hotspot machines are in development and should be ready for a 1,000 location test early next year.
The machines will offer completely free Wi-Fi through within a 50 meter radius via FreeMobile. Connection time is limited to 30 minutes, but it doesn't sound like there is a limit to how many times you can reconnect, and each machine can handle dozens of simultaneous users. It doesn't matter what carrier your phone is, or what kind device, so if you'd like to bust out your laptop, be Asahi's guest.
Another nifty feature is that instead of just having a landing page that tells you about the service you are using, or the drinks you are buying (although it will do that too), when you connect they're hoping to eventually be able to offer localized information about news, shopping, and tourism.
Vending machines are all over the place in Japan. If at some point every machine were offering not only Wi-Fi, but also those fancy landing pages, it seems like it could be really helpful in the event of an emergency, whether that "emergency" is as simple as checking a map as a lost traveler, or something more grave.
via narinari, @jameskondo