Yasuhiro Nightow work, along with contributions from Boichi, Masakazu Ishiguro and more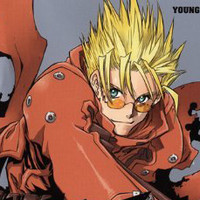 A new Trigun: Multiple Bullets anthology was released in Japan this week, retailing for 680yen. The book features sci-western creator Yasuhiro Nightow's two chapter "Gekijoban Trigun Bangai-hen: Dodongo Kyodai Honeycombed Village no Ketto," which was originally included with a Japanese limited edition of the Trigun: Badlands Rumble DVD, as well as Trigun manga from other creators.
Other authors, whose Trigun work is collected, include seinen artists Boichi (Sun-ken Rock); Yuusuke Takeyama, who wrote the Rai The Blade one-shot "Rising"; Satoshi Mizukami (Lucifer and the Biscuit Hammer); Kenji Mitsuyoshi and Koichi Ishikawa's studio Ark Performance (Mobile Suit Gundam: The Gihren Assassination Plot, Mobile Suit Gundam MSV-R: Return of Johnny Ridden); four panel comedy artist Yuuga Takauchi and Masakazu Ishiguro (Soredemo Machi wa Mawatteiru/And Yet the Town Moves).