Plus Comiket's Hellsing Ultimate Episode IX Trailer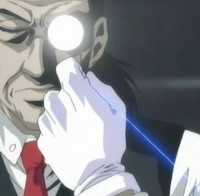 Hellsing fans who have always wondered about the previously mysterious backstory of the horror action manga's uber-deadly butler, Walter C. Dornez, should keep an eye out for the February 2012 issue of Young King Ours. The manga anthology will include a supplement collecting the six manga chapters currently unavailable in book form.
Online, some Japanese fans have registered disappointment that author Kouta Hirano has spent time working on Hellsing rather than his new hit series Drifters, which concerns historical warriors brought into a fantasy setting. Both Hellsing and Drifters are published in North America by Dark Horse.
The issue also features the "Early Summer Rain on the Planet" one-shot by Satoshi Mizukami (Lucifer and the Biscuit Hammer).
Speaking of Hellsing, the Comiket trailer for episode IX of the Hellsing Ultimate OVA: