Works of author Maurice Leblanc enter public domain in the calendar year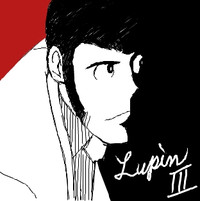 When anime featuring the now venerable, not-so-gentlemanly thief Lupin III were first released in North America, the character was referred to as "Wolf" and "Rupan" due to copyright concerns. The reason being, Lupin III was originally manga author Monkey Punch's Mad Magazine style spoof of French author Maurice Leblanc's (1864-1941) Arsène Lupin crime novels, with a hairy, voracious trickster in place of a character who operates with "Gallic style and panache".
However, now, Lupin III, or Wolf, or Lupan, or Edgar de Combriolade (his French name), along with his sci-fi derivation Lupin VIII are completely in the clear. In 2012, Leblanc's works enter the public domain in his native France. As of 1997, French copyright law has it that an author's copyright expires on the 70 calendar years following their death.
While Lupin III developed its own formula of gadgets, global chases and interplay with a supporting cast that includes laconic gunman Jigan, samurai Goemon Ishikawa XIII, romantic interest/rival Fujiko Mine and frustrated Inspector Zenigata, Lupin III has at times looked back to the Leblanc novels....Hayao Miyazaki's Lupin III adventure Castle of Cagliostro is loosed based on the novel La Comtesse de Cagliostro.
What's next for the gentleman thief? Only time will tell...
via LupinTheThird.com and @ZERUDAH