"Bakemonogatari" sequel starts January 7 at 9:30am PST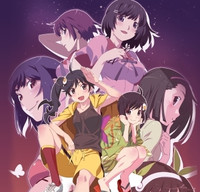 Following up 2009's Bakemonogatari anime, based on the light novels by NisiOisin, is the sequel series Nisemonogatari, which joins Crunchyroll's growing lineup of winter simulcasts. The hotly anticipated show kicks off on Saturday, January 7, and will stream every week at 9:30 am PST.
Nisemonogatari will be available to watch in the U.S.A., Canada, United Kingdom, Ireland, South Africa, Australia and New Zealand.
Licensed from Aniplex of America, Nisemonogatari follows Koyomi Araragi, the third year high school student who survived a vampire attack in Bakemonogatari, only to find himself mixed up with a host of apparitions, from gods, ghouls 'n ghosts, to myths and spirits. This sequel picks up where Bakemonogatari left off, with the psychological twists spiraling ever deeper.