Pirate-themed Power Rangers clash with the ultimate metal hero!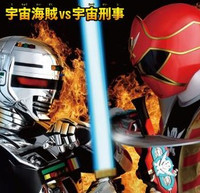 In what may go down as the boldest crossover in history, Kaizoku Sentai Gokaiger vs. Space Sheriff Gavan: The Movie is getting ready to make sparks fly in Japan. Toei is streaming a fresh trailer for the tokusatsu throwdown, and you can watch it below:
For those who haven't seen it, the titular pirate-themed sentai team of Gokaiger have the ability to harness the powers of all the previous sentai teams, in celebration of Super Sentai's 35th anniversary.
It all boils down to a huge nostalgia trip, and the inclusion of Space Sheriff Gavan—which puts Kenji Ohba back in the ultimate metal hero role he kicked off in 1982—is the ultimate icing on every tokusatsu (special effects) fan's cake. The movie kicks off with Gavan traveling to Earth to capture the Gokaiger team, but after he is imprisoned by Gavan Bootleg, Gokaiger decides to rescue him and fight the new enemy as partners.
Let's take a trip down memory lane with the original intro to Space Sheriff Gavan. Personally, it's my favorite tokusatsu show of all time. It's funky, has some wild enemy design, and is peppered with genuinely killer action courtesy of Sonny Chiba's Japan Action Club.
Kaizoku Sentai Gokaiger vs. Space Sheriff Gavan: The Movie opens in Japan on January 21.
Via ANN