So realistic, Apple is threatening to sue.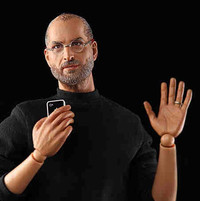 In Icon's 12 inch (scale 1:6) Steve Jobs is the iPad of action figures. The figure, which sells on their site for $100 is creepily realistic, down to the New Balance shoes and Levi's.
Includes
-One realistic head sculpt & Two pairs of glasses
-One highly articulated body & Three pairs of hands
-One black turtleneck & One pair of blue jeans
-One black leather belt & One chair (wood + metal)
-One pair of black socks & sneaker
-Two apples (One with a bite.)
-One piece of "ONE MORE THING" hard backdrop
Mac, iPhone and iPad are NOT included.
UK's Telegraph paper reports, "Apple sent a letter to In Icons calling on the company to cease sales of the 12-inch doll. The newspaper doesn't cite any sources for the story, which states that Apple stipulated in the latter that "any toy that resembles the technology company's logo, person's name, appearance or likeness of its products is a criminal offence."