Staff Service features Cyborg 003 in promotion site.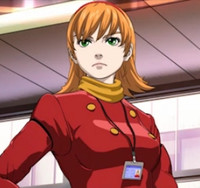 Kenji Kamiyama (Ghost in the Shell: Stand Alone Complex, Eden of the East) has been merging his anime development with advertising work. He used Shintaro Inshonomori's team of fugitives sci-fi, Cyborg 009 in a Pespi promo leading up to the announcement of the upcoming 3D film, 009 Re:Cyborg. Now, the Cyborgs are parlaying their revived stardom into more commercials.
The latest Kenji Kamiyama commercial work sees ex ballarina Françoise Arnoul, aka Cyborg 003, taking office temp work at Staff Service. An 003022.jp ad campaign site feature two anime "Cyborg Fulltime Worker" promos movies of Ms 003 using her enhanced cyborg senses to avoid work place mishaps. ie, knocking out the chump who is about to take a bad corner and blindly walk into the boss.
Staff Service previously presented an 022022 ad campaign featuring "Good Job OL Hakenko!" manga illustrated by classic shoujo creator Riyoko Ikeda.