"Papakiki" stream kicks off today at 10:00 am PST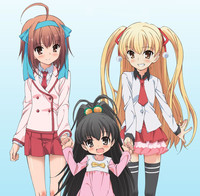 Time to mark another winter 2012 anime off the checklist, because Listen to Me, Girls, I'm Your Father! (Papa no Iu wo Kikinasai!) is joining Crunchyroll's streaming lineup. The fun starts today, January 10, at 10:00 am PST.
Synopsis:
Yuuta Segawa, a college student, suddenly becomes the guardian of his three nieces in place of his sister and her husband. The eldest niece, Sora, is a 14 year old middle school student with semi-long brownish hair decorated with a ribbon. The middle niece, Miu, is an elementary schoolgirl with blond pigtails. The youngest niece, Hina, is an angelic 3 year old attending daycare. This at-home romantic comedy illustrates the chaotic but heartwarming lives of these four characters in their tiny one-room apartment.
Listen to Me, Girls, I'm Your Father! will be available in the U.S.A., Canada, United Kingdom, Ireland, South Africa, Australia, New Zealand, Denmark, Finland, Netherlands, Norway and Sweden.