With visuals, staff, cast info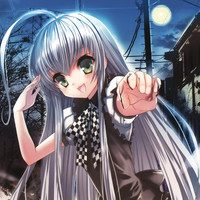 Haiyore! Nyaruko-san is an upcoming horror and "Love[craft] comedy" anime based on the light novels by Manta Aisora (with illustrations by Koin) published by GA Bunsho. It got its official website up, so some art and information have been revealed.
First, some background: The series features characters taken (almost) straight from H.P. Lovecraft's Cthulu Mythos—Nyaruko is a nickname for the Creeping Chaos, Nyarlathotep. The Unspeakable One, Hastur (aka Hasuta), and the "living fire," Cthugha (aka Kuuko), also make appearances. The story revolves around Nyaruko (who is also an alien, by the way) protecting a normal high school boy, Mahiro Yasaka, from other eviler aliens.
Anime staff info as follows:
Director - Tsuyoshi Nagasawa (Kyou no Go no Ni)
Series Composition - Noboru Kimura (Amagami SS+ plus, screenplays including Gundam AGE)
Character Designs, Chief Animation Director - Masaaki Takiyama (MM!, some direction on Softenni, others)
Music: MONACA (The [email protected], Nisemonogatari)
Music Production: DIVEIIentertainment
Animation Production: XEBEC (Softenni, Lagrange: The Flower of Rin-ne)
The cast reprise their roles from the short-form flash animation and drama CDs:
Nyaruko - Kana Asumi (Popura Taneshima from Wagnaria, Yuno from Hidamari Sketch)
Mahiro Yasaka - Eri Kitamura (Karen Araragi from Bake/Nisemonogatari, Sayaka Miki from Puella Magi Madoka Magica)
Kuuko - Miyu Matsuki (Yoshinoya-sensei from Hidamari Sketch, Isumi Saginomiya from Hayate no Gotoku!)
Hasuta - Rie Kugimiya (Kagura from Gintama, Iori Minase from The [email protected])
You still have time to bone up on the Cthulu Mythos before Haiyore! Nyaruko-san premieres this spring.
via Otakomu