Retailer notice confirms DVD only release after first being announced as Blu-Ray/DVD combo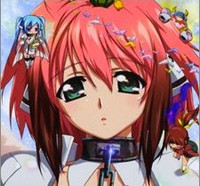 FUNimation takes great pride in satisfying its dedicated customer base when it comes to anime on Blu-Ray, but there are times when even the 9000 lb behemoth of the anime industry has to make decisions that affect releases. Such is the case with Heaven's Lost Property Forte. Online anime retailer RightStuf posted this notice regarding the release yesterday, which left fans and customers with more questions than answers:
Originally, the release was meant to include both DVD and Blu-Ray versions, but according to this post on the FUNimation page for online retailer Robert's Anime Corner store, Japan's fear of cheaper Blu-Ray releases played a part in forcing the DVD-only release in order for their release to stay on schedule and not suffer any delays.



From what I was told the licensor in Japan was leary about the dates for an overseas BD release being too soon after the Japanese release, so Funi is moving ahead on a DVD only release rather than delay the title.
Now, the last volume of the Blu-Ray release in Japan came out in May of last year, while this release is slated for late March. If 10 months is too short of a gap for Kadokawa to handle for Blu-Ray releases between the US and Japan, then this does nothing more than anger fans that expected the release as announced and only serves to push more people away from buying anime, which is a hot button issue lately thanks to Bandai exiting the market and Media Blasters' own issues.
I sent an email to FUNimation's PR rep yesterday and this is what I got in response earlier today:
In order to bring "Heaven's Lost Property: Forte" to our fans as quickly as possible, the March 20, 2012 release will contain a 2 disc DVD set. The packaging will also include a 4 color filler box with limited edition art cards exclusive to this set. We apologize for any confusion.
While I can understand FUNimation wanting to get the release out as soon as possible to get people to buy it, I'm sure the majority of customers that were looking forward to it would have gladly accepted another delay if it meant getting the Blu-Ray release, especially as the first season was released without issues just a few months ago. Unfortunately, a $5 discount on MSRP won't be enough to satisfy the majority of customers when other, less legal alternatives for Blu-Ray quality are easily available.
I hope this doesn't signal the start of a new trend, because if even FUNimation can be forced to pull Blu-Ray releases, then that means the Japanese industry is starting to clamp down against cheaper US Blu-Ray releases. If they start to do that on a regular basis, no one wins in the end.
---
Humberto Saabedra is the Editor-in-Chief of AnimeNews.biz, PhoneNews.com and an occasional columnist for Ani.me. He can also be found musing on his favorite 2D girls at @AnimeNewsdotbiz.